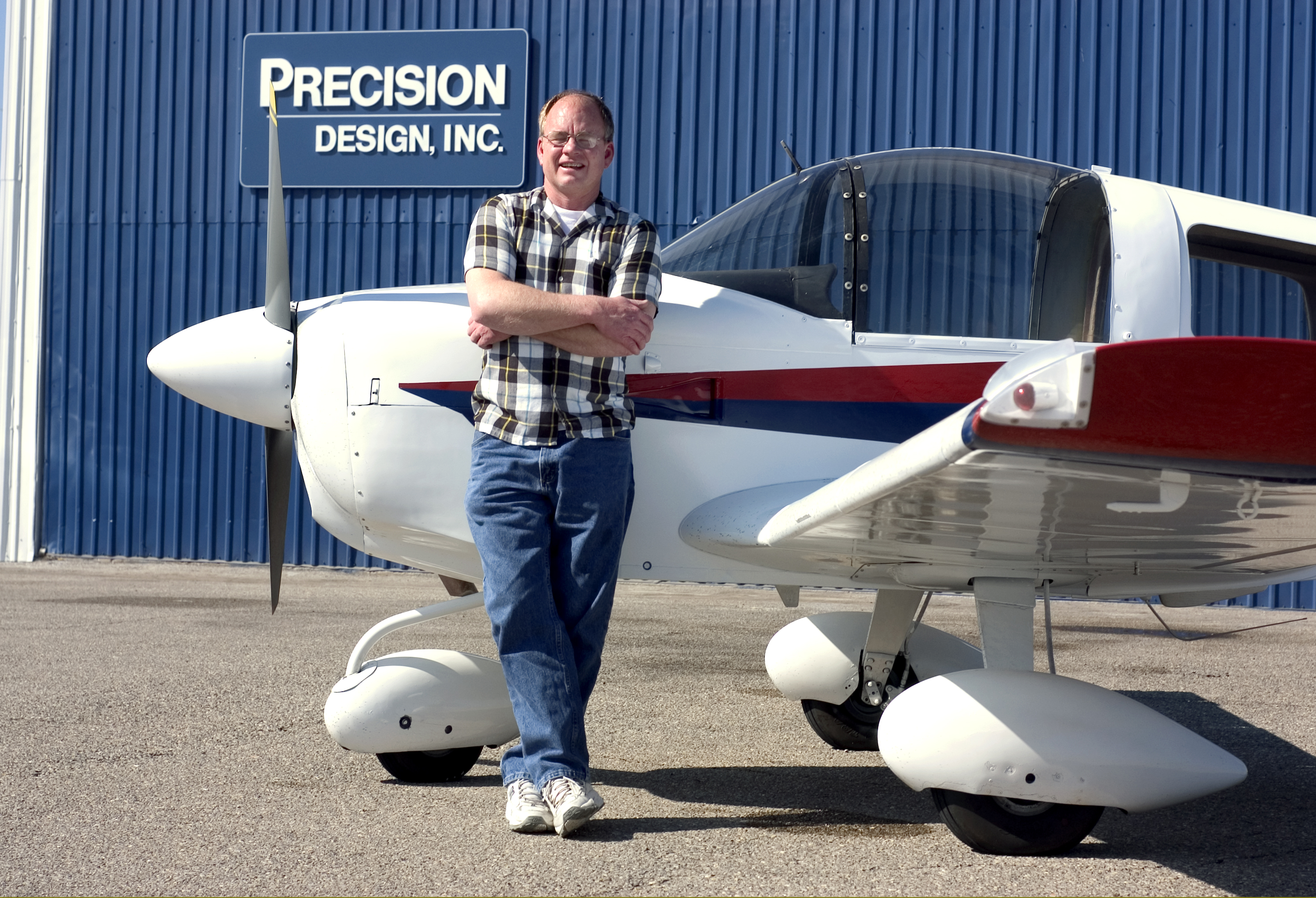 Our modern facility allows us to quickly produce prototypes and preproduction parts. We are able to take designs from a "conceptual sketches " right through the design process such as CAD, CFD and FEA analyses to prototype completion and possible full-scale production.
---
Our Mission
To produce a working part in short order and allow for testing without extensive tooling commitment. This allows us to make sure the product is really working before the customer commits huge amounts of money for production tooling.
---
Company Profile
Precision Design Inc. is located in Weatherford, Oklahoma, home to famous Astronaut Thomas P. Stafford. Thomas P. Stafford airport / museum is home to the annual NASA Small Aircraft Transportation System conference (SATS) Expo. Precision Design is JCO 5230.25 certified by the Department of Defense.
Our HUB zone qualified current 7,000 square-foot work areas plus office is more than ample to perform any project . Our facilities meet current state and city codes. Precision Design has all types of equipment suitable for the production of novel prototype aircraft parts specialized in the area of advanced fabrics. All types of cutting tables and different types of vacuum pumps are present. To support its position as a leader in advance composite fabric technology, Precision Design maintains extensive laboratory facilities dedicated to the development and production of novel aircraft parts for all types of aircraft.
Prior Experiences of Precision Design:
Precision Design has been in the business of constructing pre-production composite aircraft parts and prototype aircrafts for more than 12 years. In all, Precision Design has designed and built nine experimental aircraft. Three of these aircrafts won perseverance awards in 1993, 1995, and 1997, and two won Grand Champion, in 1992 and 2001, at the annual Oshkosh Air Adventure in Oshkosh, Wisconsin. A recent project, the SeaStar, a six place turboprop amphibious aircraft made from carbon graphite. The aircraft was featured in Popular Science in May of 2000, Popular Mechanics in May of 2000, and Hamptons in June of 2000. The SeaStar set a world record for the highest cruise speed reached by a seaplane of its class, 230 mph. Precision Design is also an active member of the Oklahoma Manufacturing Alliance recently featured in its autumn, 2002 Publication. Precision Design in 2003 became interested in PAV (Personal air Vehicles) through NASA STTR program which latter became the current Centennial Challenge. A Roadable aircraft project (Revolution) has evolved from this work on road-able aircraft. To be a flying motorcycle not a flying car.
Precision Design has ongoing working relationships with Oklahoma University that provides access to their lab for testing purposes. Drawing upon its extensive background in prototype composite parts technology, Precision Design can produce a working model quickly. Getting a working part in short order allows for testing without extensive tooling commitment. This allows us to make sure the product is really working before the customer commits huge amounts of money for production tooling.
Precision Design belongs to the following industry organizations:
Oklahoma Manufacturing Alliance, Oklahoma Center for the advancement of Science and Technology, Experimental Aircraft Association. Precision Design president Mr. Easter appeared on OCAST Radio show innovations January 4 2004. highlights of that show "Precision Design designs and manufactures custom aircraft but has taken the skills and equipment of their main business and applied them to other areas in the aviation arena. Find out how this small Weatherford company is using an SBIR grant to help the Department of Defense resolve an old problem... this week on Oklahoma Innovations."
What do other say about Precision Design?
"Lots of people could make the outside but only Precision Design could make the inside!" (Wright Paterson Research Lab)
"The outcome of the proposed work could revolutionize the future wing design concept, and could introduce extensive NASA flight test programs to evaluate the revolutional multiple-mission adaptable wing performance." (NASA reviewer)
Mr. Easter has owned more than 50 aircraft while accumulating more than 1200 hours as pilot in command in a variety of certified and experimental aircraft.
---
Contact Information
Telephone

580-772-2140

Postal address

P.O. Box 2064 (Physical) 3000 Logan Rd. Weatherford OK. 73096

Electronic mail

General Information: helix@nts-online.net
Webmaster: helix@nts-online.net
<![if !vml]><![endif]> <![if !vml]><![endif]> <![if !vml]><![endif]>