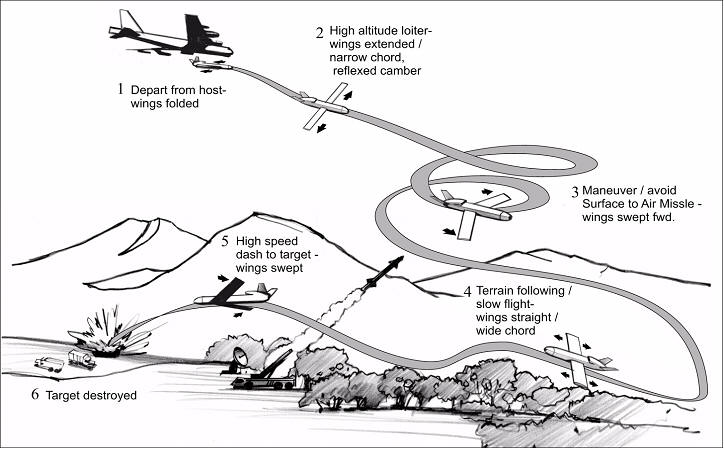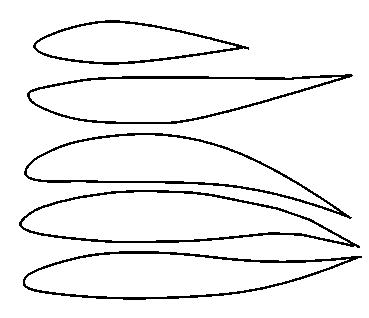 PowerPoint from AIAA presentation
Abstract from same presentation
<![if !vml]>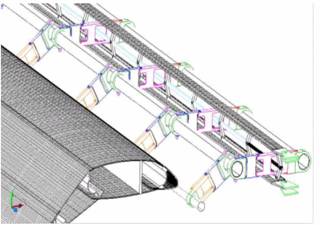 <![endif]>
Aero II (Aeroelastic II) is the second generation of morphing wing designed by Precision Design.
In this project the development and testing of a novel wing design capable of morphing in flight is proposed. The new wing design is capable of changes in the (a) aspect ratio by more than 200 % (b) wing area by 50 % (c) sweep by more than 45 degrees, (d) wing twist by up to 10 degrees (e) and in camber. The design is based on biomechanics demonstrated in nature. Novel kinematics structures in conjunction with smart materials are used to obtain the changes in the wing. A 20% scale internal wing structure has been designed and built by Precision Design for geometry verification. This wing is innovative in its approach as it provides methods to control all perimeters of airfoil and wing geometry yet provides the structural integrity for safe flight. The wing can be controlled by conventional methods or advanced methods using shape memory alloys which can be used as both an actuator and sensor. These elements promise significant leaps in vehicle performance, operation, safety, cost, and capability.

This revolutionary concept meets many of the goals set out in NASA's Revolutionary Flight Concepts program. (1) Feasibility: The principle structure is constructed from aircraft aluminum and its external skins made from carbon graphite. These materials are readily available and already proven. The ribs are constructed by cutting the separate parts using water jet with the profiles from a CAD file. The tubular elements are common cross sections which make the wing practical and cost effective to manufacture. (2) Development: Cad models have been made and scale parts cut to insure that there are no parts that conflict during operation. (3) Advanced flight techniques: having control over camber, area, aspect ratio, twist, sweep both differentially and simultaneously allows man to fly in a manner never before experienced.
In order to demonstrate in the actual flight environment and to fully characterize or validate such a wing, there are development steps which must be in place such as FEA studies, CFD studies, wind tunnel test, and full scale flight test. Precision Design is working on all of these steps.
Designers and manufactures worldwide have searched for methods to allow multiple missions from the same airframe. This is a current need and will become an even more dominant need in the future for desired performance improvements and enhanced desired mission capabilities. The operational speed ranges of aircraft are driven, to a significant degree, by the wing geometry. Some aircraft use mechanisms such as leading and trailing edge flaps, telescoping devices, sweep, and camber changing devices in an attempt to increase mission capability. As these devices are added to improve mission requirements, the weight and complexity of the wing rise, lowering the available payload. The desired wing geometry would be constantly able to adapt to different obstacles that increase its mission capabilities, such as take off, landing, high-speed cruise, attacks, and loiters, while not gaining weight or complexity.[i] There are other desired goals as well. The surface of the wing should be smooth without discontinuities during a shape change. Its range of movement should be such that it can influence wing area, aspect ratio, sweep, twist, and camber. Some hydrodynamic and stealth applications require such things as low noise signature, the ability to apply RAM (Radar Absorptive Materials), and the ability to remotely mount the wing structure. As a wing structure becomes more flexible in its geometry, its structural ability to support the vehicle must be maintained with minimum weight gain.
Using a morphing wing, the movements of the vehicle would allow symmetrical as well as asymmetrical movements. This will provide a new level of maneuverability. The ability of the wing structure to morph will allow single airframes to perform multiple missions over a wide range of operation. This will significantly increase the capability of all aircraft. Adaptive airframe structures, which allow air-launched weapons systems to operate over a wide range of flight regimes, have special requirements. One such requirement of the airframe would be deployable wings, which are necessary for air launch and storage. This same system is useful for roadable type aircraft and amphibious aircraft that require the use of standard garages or boat docks.
Recent advances in smart materials, actuators, embedded sensors, and control systems have made it possible to create airframes that can achieve dramatic shape changes during flight. Shape Memory Alloys (SMA)s are metals that shorten 6 to 8% in length when heated. Made from nickel and titanium, SMAs are strong and light. The biggest advantage of SMAs is their ability to endure loads of over 1,000 times their own weight.[ii] This provides actuation similar to the biomechanics of the human muscle system without any mechanically moving parts. An added benefit is that their movements are without any noise signature.
�The outcome of the proposed work could revolutionize the future wing design concept, and could introduce extensive NASA flight test programs to evaluate the revolutional multiple-mission adaptable wing performance.�

[iii]